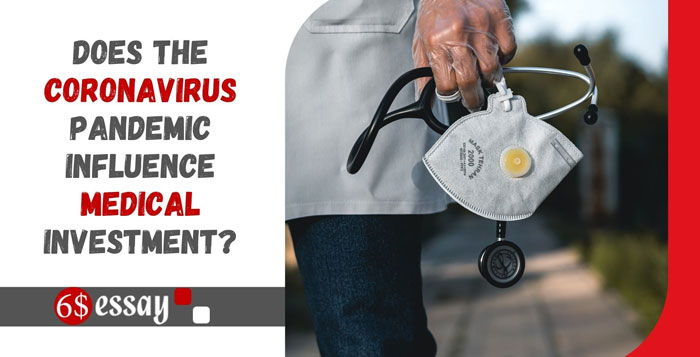 Ever since coronavirus hit our planet and totally transformed everyday life, the world has started realizing the loopholes in our general life and mistakes made by the governments which have been long forgotten. One of the biggest mistakes that have been neglected all these years was the undermining if healthcare investment and management. This has shown drastic consequences in the current pandemic all around the world. Chronic underinvestment in public health, insurance, and healthcare management has led to a severe increase in the death toll because of coronavirus. The world does not recognize the loopholes in our management techniques until it is hit by a deadly crisis. This is what happened since the pandemic coronavirus hit us as well.
Until the world was not hit with a deadly pandemic, the countries failed to realize their mistakes and always assumed that the country's healthcare management was being managed smoothly. Our healthcare superheroes continued to work tirelessly in the background without letting the cracks in the healthcare management being shone openly. Our healthcare superheroes continued to deal with chronic disease prevention, sanitation, vital statistics, safe water, infection control, occupational disease and injury, and safe food with the loopholes and lack of resources due to underinvestment in public health.
However, a warning alarm has always been sounded by the healthcare workers and health researchers regarding underinvestment in the U.S healthcare management and public health at a faster and consistent pace. According to a report back in 2012; For Public's Health; Investing In A Healthier Future, it was clearly warned that overspending on expensive health care and medical treatments consistently make the thought of spending on public health measures and disease prevention take a back seat. This, in turn, can have negative impacts during a pandemic, as of now. While it has been 8 years since that report was released back in 2012, it still stands true and accurate to this date.
According to a number of other researchers and public health sector controllers, U.S should work on setting a per capital target for spending on the public healthcare problems for times like today, when a deadly pandemic wrecks everyday life for a year and the death toll keeps increasing with every passing day.
However, in recent times, since ex-president, Donald Trump declared a national emergency due to coronavirus and it was given the name of a pandemic, there has been witnessed increased investment in the healthcare management, public health management, and different sectors assigned to combating the deadly consequences of the Novel Coronavirus pandemic. Not only that, but public health sectors that have been working tirelessly to help people cope up with the financial, mental, and physical and emotional wraths, and sectors that help in delivering coronavirus related healthcare commodities. While it was neglected for years in the past, these sectors and all the public health programs have started attracting investments in bulk since the outbreak and health consequences of coronavirus. In this article, we have listed some areas that are attracting consistent investments since the pandemic.
Behavioral and Mental Health Sector Investment
Coronavirus has not only shook the healthcare and economical basis of the United States, but the people of America are also combatting mental health problems as they are forcefully ordered to stay at home. Since work and educational means were shifted inside the four walls of our houses, healthcare sectors have been increasing their efforts in helping people combat loneliness and isolation in these tough times. In doing so, there has been seen increased investment in the mental health and behavioral sector of healthcare, as well as investments in the existing companies of mental and behavioral health as well.
Investments in the mental and behavioral startups were seen hitting a record high in the early months of the year 2020. The main focus in recent years has been on employer-based startups that help people combat mental health issues through home services. Not only that, an increase in investments for the already existing firms that provide mental health services was also noticed since the breakout of coronavirus.
Tele-health Sector Investment
Since the pandemic, when everything shifted to digital means and through the computer screens, we have also seen an increase in investments for the tele-health sector. Pandemic not only forced education and work indoors, but it has also pushed physicians and primary care providers to shut down in their houses as well. As a result, firms providing primary care and physicians to patients indoor have experienced an increase in investment for enabling tele-health as well. Firms are now helping primary care centers provide remote services through digital means.
In recent year, it has been estimated that the United States Tele-health sector will considerably grow more than ever before because of the deadly coronavirus. Mostly, investments are being increased for enabling tele-health services amongst primary care and tele-health services.
Not only the government of the United States, but the Canadian government is also increasing tele-health investments for enabling remote services of mental health and primary care for the patients in need.
Artificial Intelligence Investments in Public Health Sector
Artificial Intelligence has shown significant promises for the sector of healthcare and public health in recent times, and even more so during the coronavirus. As a result, there has been a drastic increase in investments in AI and machine learning in the healthcare industry. AI is making significant changes in terms of enabling remote services in the sectors of drug discovery, clinical trials, and medical diagnostics. In regards to the coronavirus, healthcare researchers and providers are also looking towards Artificial Intelligence to maximize resource as the number of expected coronavirus patients increase and it is getting harder and harder to detect the varying symptoms.
Final Thoughts
Looking to write an impeccable report on coronavirus and its impacts on the investment of public health? Then reach out to professional report writing experts online and place your orders for the fastest and the most professional, on-time deliveries.