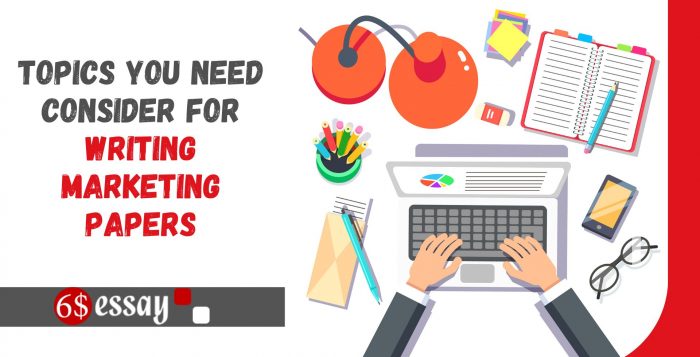 Students from all around the world are drawn to the topic of marketing because of the innovative approach it takes to traditional business disciplines like management and advertising. The allure of marketing as an area of study and a profession is growing, and students from a wider range of business specialisations are preparing to compete for the roles of top marketers.
The academic curriculums of this topic are comprehensive, difficult, and encompass long programmes with onerous requirements of producing essays, research papers, and many more comparable projects almost every day throughout the years spent earning a degree in this discipline.
When it comes to writing marketing papers, one of the trickiest tasks is choosing a topic that represents your knowledge, impresses the professors, and helps you in securing high grades. As a student, and with the increase in digital technology, you will have several resources to conduct research from and come up with exemplary topics for marketing essay writing. Although the problem arises with the mere thought of writing a research paper and not knowing what to write about, it confuses you, makes you stressed, and makes a relatively simple job of coming up with a topic daunting.
Writing a marketing paper, or any other essay for that matter begins with the simple steps, brainstorming, researching and narrowing your research to the top picked choices, and finally writing. According to academic experts, choosing a current topic – such as augmented reality or the impact of artificial intelligence in people's life, that resonates with the audience and gives your professor the impression that you possess in-depth knowledge about the topic will give you an upper hand over other students, as well as increase the chances of securing higher grades.
To help marketing students stuck with a confusing decision of choosing a winning topic, we have compiled a list of the best topics you can use to impress your professors and some tips for coming up with an impeccable marketing paper topic.
Tips for Choosing a Promising Marketing Paper Topic
Before we get into the examples of some of the best marketing paper topics, it is better to get familiarized with some helping tips for coming up with a topic in no time. Always remember, before you begin the process of researching, brainstorm your ideas, the topics that interest you, and the expertise of the study you would be the most comfortable with working in. Do not forget, personal interests and likings come after the requirements and preferences set by the audience you plan on target.
Hence, always research about the likes and preferences of the audience and prioritize the topics that will intrigue them. In the case of being a student who is required to write college marketing essays, choosing topics that will impress your professors should be your first priority. Here are some tips you should bear in mind:
1. Keep your Personal Interests in Sight
This goes without saying that writing an impeccable essay cannot be possible if you are not passionate about the topic. While researching for a topic that does well in terms of grades and you can easily write on, consult your advisors and peers and discuss potential ideas. Once you have written down all your possible themes or keywords, it will be easier to come up with a topic.
2. Do not Leave Facts Behind
A research paper differs in characteristics from a descriptive essay, it cannot be dragged on aimlessly with little content. Your marketing research paper must contain factual data, and that can only be achieved by thorough research. As well as, while citing different resources and researches in your paper, make sure they are all properly referenced from credible academic resources.
3. Leave Time for Editing and Proofreading before Submission
Due to students dreading the task of writing marketing papers, they tend to leave it for the last minute. Do not make that mistake. A research paper cannot be written overnight and requires thorough editing and proofreading before submission. Hence, always complete your papers way before the submission is due and leave time for editing and proofreading.
List of the Best Marketing Paper Topics
● How can CSR be used to reinforce brand equity?
● What are the best manipulation tactics to attract customers?
● The role of social media marketing in communicating a brand's image.
● Does social media marketing play an important role in impacting the buying choices of the customers?
● How can a consumer shield himself from direct marketing strategies?
● How can a brand analyze and study consumer behavior for a specific product?
● Can advertisements influence consumer behaviors?
● Can marketing communications impact family orientations?
● What are the characteristics of online shopping and the importance of it?
● Does the global market incorporate standardization?
● The attributes customers look for while online shopping for different products.
● The characteristics of differentiation conducted by financial institutions depending on the social class.
● Direct marketing and its effectiveness.
● The future of internet marketing.
● Marketing strategies and its different characteristics across different cultures.
● Can political campaigns benefit from brand advertising?
● Impulsive buying and how can brands benefit from it?
● Can loyalty cards be used to boost customer loyalty and sales?
● Consumer behavior and its changes after globalization.
● Can a brand image influence customer loyalty?
● What are the attributes of a brand that result in increased customer loyalty?
● Marketing strategy examples that have helped break through market monopolies.
● How can discount offerings and promotions affect brand equity?
● Impacts of advertising during the time of a recession.
● Social media marketing and its influence on consumer behavior.
● How can TV advertising spread mind awareness?
● What do customers think of event sponsorships?
● Direct marketing and people's perception.
● To what extent does social media marketing influence buying behaviors?
● Does celebrity endorsements have a huge impact on ROI for CPG brands?
● Why has online grocery shopping gained popularity in recent times?
Which topic do you find suitable for your next marketing paper or essay?