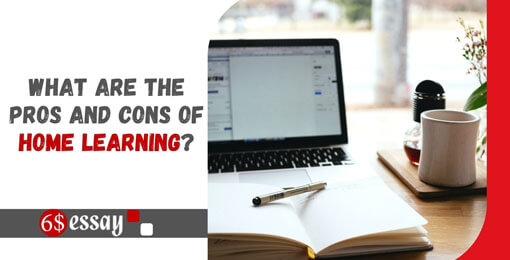 The Covid-19 crisis has taken its toll on all the fields, including education. For this reason, thousands of children have to learn outside the classroom. The coronavirus pandemic has shifted education to the home to avoid the spread of the virus in schools, colleges, and universities. While there are many ways to learn at home, the most extensive options in these situations are homeschooling and distance learning.
With homeschooling, all educational systems depend on the family, though the exact arrangement depends on each country\'s laws. In distance learning, the home becomes the classroom in physical terms, but the school is still responsible for its education.
Here is a list of pros and cons to help parents, teachers, and students consider homeschooling.
Pros of Home Learning
1.    Effective Learning
Without a classroom of children, there are no distractions. Parents and students have the whole ability to move through material rapidly or slow down if they need to—the quality of education surges when children learn in a one-to-one environment. There's also far less busywork that grasps children back or takes up extra time.
2.    Flexibility
It is one of the primary purposes that why parents opt to homeschool. Parents choose the curriculum; so, there is complete freedom in what to teach and how to teach. If your child has specific interests, you can spend time building them.
Some parents and teacher may have a certain value-system which they have to incorporate, and some parents may have a child with special needs who require a customized method. One day you could be doing an innovative science project, the other day writing an essay on the blackboard with chalk. The benefit of home learning is that its possibilities are endless.
3.    Free Time
Like flexibility, children and parents who study at home don't must adhere to the strict routine that all schools have. There is now the opportunity for the students to take vacations in the off-season or even change the months they spent schooling.
Children don't need special notice from a school, and they can learn at any time that works best.
4.    Socialization
Students who are home educated get more opportunities to socialize with people from an extensive range of age groups. While home education support groups and after-school activities that enable children to make friends of the same ages.
A necessary amount of time can be spent with younger and older children. Few educating parents believe that socialization can reduce negative social exclusion and peer pressure.
5.    Relationship Building
Home learning means to be present for almost any kind of education that a student experience. There are crucial moments in your student's childhood because you are spending it all together.
Moreover, a bond built between child and a parent during the process of school is one of the most substantial aspects.
6.    Bullying
It is easier in-home learning to protect students from negative influences and practices of bullying and lousy teaching when parents are not away from them for multiple hours each day.
Knowing that a child is not being victimized can allow you peace of mind and help the child build an optimistic view of the world.
7.    Maturity and Independence
When they start learning at home, then their success depends on their parents or sometimes children. They can provide students some assignments to complete work on their own time, requiring responsibility.
Homeschoolers are responsible because they have to control education on their own. Moreover, grown-up homeschoolers have the opportunity to start work and earn money while still in school or college.
Cons of Home Learning
1.    Adjustment Period
Those parents who think about their children\'s transition from the traditional school system to homeschool, the process can seem hectic. Figuring out students' curriculum schedules, choices and activities can be tiring when as a parent, you are first starting.
The longer a child spent time in the traditional school system, the more challenging it might be to start homeschooling. It takes time to move from a healthy classroom mindset to realizing that you have the liberty to build your custom-built learning environment.
2.    Commitment
When you decide to homeschool your children, it involves a commitment from you. Apart from the hours parents or teachers spend teaching the student directly, they also need to factor in time to plan lessons and keep updated with the latest developments in education.
Although taking complete responsibility for a student's education can be redemptive, it may often leave students or parents feeling out of their depth.
3.    Anxiety
When parents initially think about homeschooling, they usually think they can do it or not and ultimately feel anxious. Indeed, taking a child's education into your hands can make you feel overwhelming.
In the beginning, parents usually wonder if they can do enough or doing it right. It is the primary concern and indicates positivity like you want your child\'s best possible education.
4.    Specialist Teaching
Home learning can diminish the child's access to expert teaching. Even if you can afford some private tuition as a parent, it is doubtful that you will be able to reproduce the same kind of expertise accessible by the school, particularly at the secondary level exactly.
5.    Lifestyle Change
Families that homeschool their child to make difficult financial decisions can change from two incomes to one or explore other options like working from home.
At the same time, it may impose economic challenges and can become a huge lifestyle change to get settled with.
Taking Experts Help in This Situation!
Home learning is a bit challenging for all students, teachers, and parents. It is more overwhelming for those students who work with their studies. While we have seen the pros and cons of homeschooling, so it seems that it is more difficult for a student to manage their burden with everything.
This is why several professional academic providers available online offer homework writing help. So, it is best to contact the experts to get exceptional and affordable writing solutions.