September 16, 2023 1:09 pm
Victoria
Nursing Essay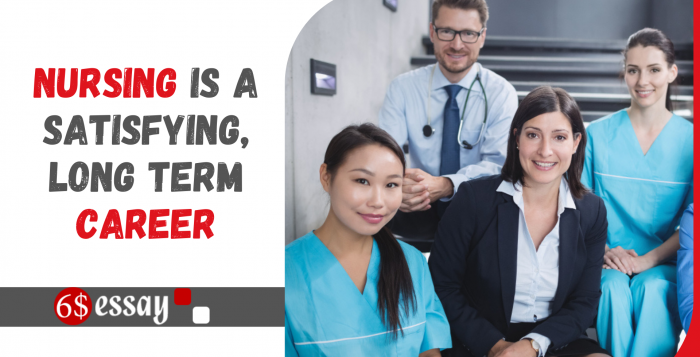 In modern times, nurses are considered as the soul of the healthcare profession. They give their heart and spend their lives taking care of the patients, providing them comfort and spreading kindness during stressful situations. They are selfless individuals who do their job regardless of their personal issues and circumstances.
Also, they are empathetic towards families and comfort them. This is why they are always cheerful towards the sufferers and their families and try to lighten up their mood either by playing games or simply communicating.
Those who are willing to pursue a career in nursing should know that it is not a cakewalk. You'll have to overlook your problems and stay motivated throughout the day to look after the patients. At some days, when you feel low even then you cannot back off. This profession requires dedication and long-term commitment.
Nevertheless, all the praises and the rewards you get to perform your duty make all your struggles worthy in the end. Ultimately, what matters the most is being compassionate towards humans in need and helping them for their sufferings.
Types of Nursing Career
If you are interested in choosing Nursing as a career path, you may already know about all kinds of nursing roles and its benefits to pick up the one that is most suitable for you.
• Circulating Nurse
You might have observed nurses looking after tools outside the operation theatre or ER. They are the circulating nurses who are responsible to maintain and check the count of disposable equipment used and left. Their responsibility is to ensure the operations of all the electrical devices within the rooms during the medical procedures.
If any of the devices is found defective, they report it to the concerned authorities and fetch for the best option. Additionally, they make sure if the name, room and identity of the patient match the data with the required operation room. Once all the consent forms are filled, circulating nurses approve the medical procedures that are carried out by the doctors. They also assist in tube removal and providing fluids and medicines to the patient.
• Scrub Nurse
A scrub nurse is responsible for preparing the operation room before the surgery starts. Every equipment and instruments including needles, count sponges, lasers, stretcher accessories and others are organised and maintained by the scrub nurse.
During surgery, they assist in passing tools to the operating doctor helping in gowning and gloving the patient. From start till the end of the procedure, everything is observed by the scrub nurse to ensure smooth operation.
If you plan to pursue a career in scrub nursing then you'll have to look after the documentation of the procedures, attach patients to the machines, apply dressings, transport the patients and provide post-anaesthesia care. Also, cleaning and security of the used instruments and pieces of equipment will fall under your job description.
• Certified Registered Nurse Anesthetist (CRNA)
After completing a Master's Degree in Nursing and completing several nursing essay writing tasks, you can easily aim for certifications to become a nurse anaesthetist. This states you as an expert in giving anaesthesia during the surgical procedures. CRNAs are also capable of conducting assessments before giving the drug, maintaining its level and preparing patients for the dose.
There are also Post-Anesthesia Care Nurses (PACN) whose responsibilities are similar to CRNA but they only look after the patients after they have been dosed off. They are also efficient in assessing patient's C02, blood pressure, oximetry and the operation of the cardiac function. Also, the discharge and release dates depend upon the reports generated by the PACN.
• Registered Nurse First Assistant (RNFA)
Nurse First Assistants work closely with the surgeons and doctors in the ER or operation theatre. However, it is required to complete some certifications after becoming a circulating or scrub nurse to work as a registered nurse. Here, RNFAs are taught how to cut tissues during the procedure, prevent bleeding, and help surgeons when required.
They know about every type of tool present in the room and are efficient enough to handle problems. Additionally, they keep a check on the monitoring tools to inform the doctors about the changes in the patient's health. You can say that they act as the right hand in the surgical suite. And only upon their clearance, the patient is transferred to the assistance of post-anaesthesia care nurses.
Why choose a nursing career?
• Job Flexibility
You can choose when you want to work depending on your availability. This is one of the jobs whose shift timings are flexible but it does require energy and stamina to deal with everyday stress. This career has two options, letting you work as part-time or full-time.
• Self-Satisfaction
If you have an empathetic personality and desire to help humans, nursing is your go-to profession. You will get a feeling of self-satisfaction, positivity and happiness in helping others. The rate of strong personal satisfaction is higher than most of the professions. Each day you will encounter new challenges that would require new approaches to deal with them.
• Locality Options
Nurses tend to switch hospitals/clinics if they do not like the environment of the place or due to other reasons. Thus, you can choose where you work either in the city, rural areas or suburbs. There is also a chance to travel the world if you start working as a freelance nurse. It solely depends on you to decide where and when do you want to work.
• Field Scope
Most of the students aim to become a doctor, surgeon and any other professional except a nurse. So, we can say that there is a variety of opportunities in the nursing industry. Start applying in different firms for nursing as soon as you are done with the certification. This field also requires more committed nurses as most individuals prefer other careers.
• Human interaction and support
It feels great when you get constantly praised, recognised and acknowledged for your work. In nursing, there won\'t be a single day where you won\'t get a chance to keep your patients happy, you will be doing it each day by your actions or words. This will in return up your morale and boost your motivation level to the maximum.
• High incomes
One of the top reasons for working is income. While becoming a nurse, you will face many difficulties but it will be all worthy in the end. All of your hard work will be paid off when you will receive your first salary. On average, the median salary of a practising nurse is above $60,000 in the US.
• Higher nursing degrees
The education of a nurse doesn't halt upon completing a masters or PhDs degree. There are many other certifications a practising nurse can do to polish their skills and learn more about the field. You can also demand a raise in salary after finishing the courses relevant to your specialisations.
Other than the aforementioned benefits, there are several other pros when you choose nursing as a career. Sometimes, you get all the hospital facilities for free, letting you, your spouse and your family enjoy the gains.