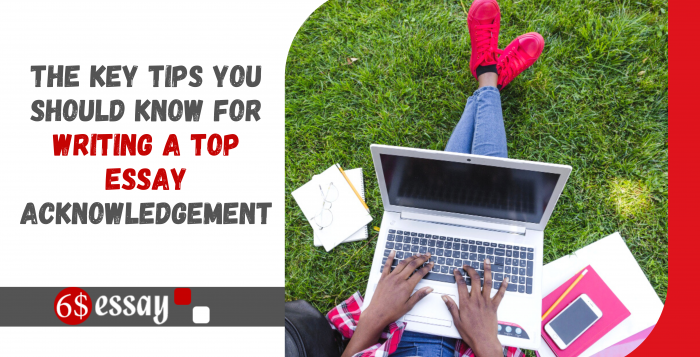 Writing a lengthy paper like a dissertation or essay is a huge undertaking that needs a lot of time and energy. It also relies on a wide variety of resources, both main and secondary, all of which should be credited in the endnotes. One of the first things you should do when writing an essay or thesis is to acknowledge and express gratitude to the sources who were essential in your research.
In most cases, the acknowledgment section should follow the methodology section. In contrast to the literature review, the methodology, the introduction, and so on, the writer has a complete creative license in this area. While most students are good at giving credit where credit is due, there are still those who struggle. They stammer for words and fall short while attempting to express their gratitude to those people in writing.
To assist you in composing a fitting acknowledgment for your paper, this blog post will discuss the fundamentals of acknowledgment writing and provide useful pointers. But before diving into the specifics of an acknowledgment section, it\'s important to grasp why it\'s so critically important.
Why is Acknowledgement So Important in an Essay or Dissertation?
One of the main reasons to write an acknowledgment page is to thank and offer grateful notes to those who provided the required support to you throughout the study. Another main reason to compose this section is that the instructors would want to know from where you gathered all the information and who helped you in the research.
Consequently, make sure that you put your best foot forward to make it shine. Mention all the people who offered you help in any way during the study. Students must know that a dissertation without an acknowledgment section will not be considered a complete paper and your instructor may even cut a few marks. Therefore make sure that you do not miss it, it does hold an ample amount of significance.
Essentials to Write an Acknowledgement Section in a Dissertation
Often students get too emotional when they compose their grateful remarks for those who have helped them throughout the research. Experts advise that appreciation should be written concisely, avoiding such strong emotive and expressive language. It should have a formal and professional approach with an articulate and precise approach.
To help you avoid such mistakes, here are a few tips that all of you must keep in mind.
Tip 1: Make a List of People to Address
Before composing a dissertation acknowledgment, you must make a list of those people who helped you throughout the process or are linked to your essay in any way. Making a list will help you address all of them in the acknowledgment section, cutting down the chances of missing out on anyone important.
Some of the common individuals who deserve a special mention in your acknowledgment section include your supervisor(s), organization(s) that were involved in the style, academic crew, technical personnel, funding bodies, research participants, family, friends, and support staff members. However, students must note that every essay is different and they should tailor their acknowledgment section to suit their particular situation.
Tip 2: Use Personal Pronouns and Include Mandatory Phrases
As mentioned above, students have the freedom to write this section as per their own choice which is why it also includes personal pronouns. However, the entire essay doesn't include them. When the grateful note is coming from the writer's end, they must use these pronouns including "I, my, me, myself" in the acknowledgment section.
That said, several commonly used necessary phrases make your acknowledgment section shine and make it more impressive. Some of the phrases include:
• I wish to show my appreciation to….
• Also, I want to pay special thanks to…
• Thank you to all those who assisted me in achieving this milestone and helped me complete this research.
• My sincerest gratitude to all who…
• I could not reached the conclusion that I did without the help of the study and research process.
Tip 3: Follow Professional Approach and Standard Format
Another important tip that can help you enhance your acknowledgment section is to compose it professionally and make sure of its standard format. While expressing, students tend to get too emotional and informal while writing acknowledgment sections, you must ensure that this part should also be as professional and formal as possible as the other parts.
However, only the use of personal pronouns can differentiate it, the rest of the formal approach must be followed. One best way to keep it professional is to ensure conciseness and precision in writing. Just mention how those individuals assisted you without going into other personal details.
Additionally, you must stick and adhere to the format of the acknowledgment section as given by your institute. Some instructors provide it and require students to strictly follow it while several professors leave it to the students. Regardless of the case, it is advised to follow the standard format than composing it on your own.
Compose Essay Acknowledgement Wisely
Students tend to avoid the acknowledgment section and compose it without giving it much importance. Little do they know, that according to a source, it is the most widely read section. Reason being, that many individuals who helped you in the research process look for their names in that section.
If you have trouble saying "thank you" or cannot compose grateful notes in the acknowledgment section in a way that sounds sincere and natural, you must seek professional assistance from an cheapest essay writing service. But do not neglect the significance of this section and write it carelessly. All you need to write an outstanding acknowledgment section is to use good phrases and vocabulary in a concise and precise manner that doesn't sound too expressive or emotional to the readers, but formal and professional.
Follow the tips mentioned above and stand out from the crowd by writing a top-notch essay acknowledgment section.